Aparthotel Bahia Grande (4 Star)

The Aparthotel Bahia Grande in Las Playitas is an ideal place for couples and families who want a hotel that offers a full range of facilities, plus the additional opportunity to take part in a range of sports and sporting programmes.  There is the option of self-catering or half board.
Aparthotel Bahia Grande Location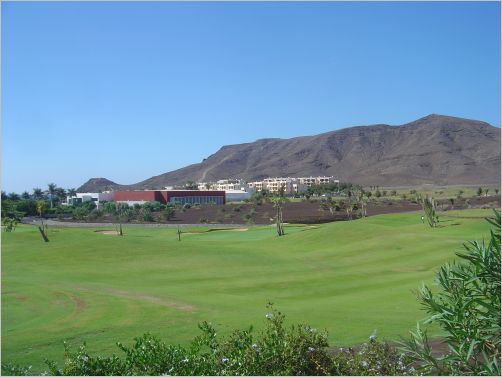 The Aparthotel is located at the southern end of the black sand beach, and next to the golf course and the sporting area.  The village of Las Playitas lies at the opposite end of the beach, about 20 minutes away.  The hotel is 5km away from the small town of Gran Tarajal, which has a range of seafront restaurants, supermarkets and shops.
Hotel Facilities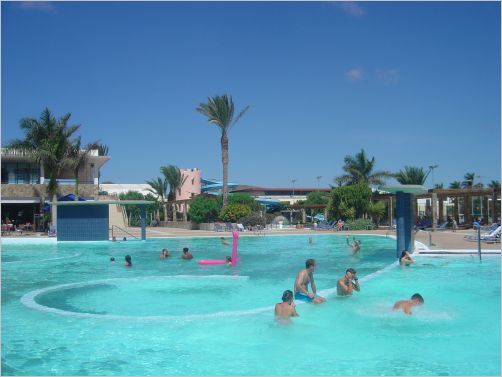 The hotel has a swimming pool, a children's pool with large slide,a restaurant, a bar, a theatre, a games room, a fitness centre with gym, a Spa and a children's entertainment programme.  The restaurant serves buffet style meals at breakfast and in the evening.  There is a supermarket and a newspaper kiosk.
Close by is a wide range of sports activities – an 18 hole golf course, a 50m Olympic size outdoor swimming pool, a cycling centre, triathlon facilities, a very large sports hall, a dive centre, archery, tennis, Nordic walking and a sailing/watersports centre.  A full sports programme is available to include aerobics, aqua-aerobics, spinning, body toning etc.
Room Facilities
There are 210 rooms, of which 114 are studios and 96 are apartments.  The rooms are located in 7 blocks.  All rooms have air-conditioning, a television, telephone, a safe, a kitchenette, a bathroom with separate shower and a hairdryer, and a balcony or terrace.  The studio rooms have 2-4 beds in a large room, but on two levels, whereas the apartments have 2-5 beds split between a bedroom and the living room.
What Guests saying about this Hotel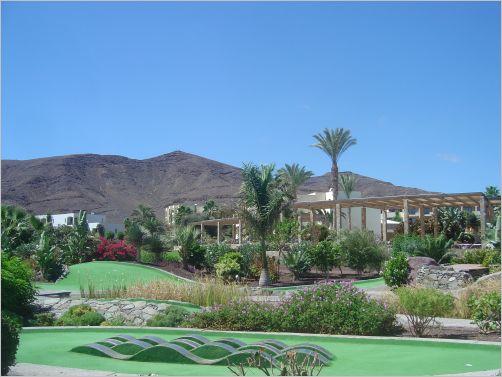 People who have stayed at the Aparthotel Bahia Grande leave reviews on TripAdvisor.  The overall rating is 4 out of 5, taking into account the location, sleep quality, rooms, service, value and cleanliness. These are 10 comments that have been put on there, which seem to sum up people's opinions –
'An excellent sports resort', 'a fantabulous holiday resort', 'wish I could have stayed longer', 'cool combination of resort and training', 'great stay for families', 'excellent for training, OK as a hotel', 'great place for an active holiday', 'excellent stay', 'fantastic for active families', and 'lovely getaway'.
Hotel Video


How to Get to the Hotel


Las Playitas is about half way between Fuerteventura airport and Morro Jable in the south of the island.  When you leave the airport take the FV-2 road, signed to Morro Jable, and keep following the signs for around 30km, until you reach the roundabout for Gran Tarajal. Turn left at this roundabout and follow the FV-20 road which goes into Gran Tarajal.    After travelling 3.5 km, take the left-hand turn on to the Las Playitas road, the FV-512.  After 4km you will arrive in Las Playitas, and at the first roundabout turn right, and at the next small roundabout, turn right again.  Follow the road, past the villas and golf course, and along to the hotel entrance.

Aparthotel Bahia Grande Contact Details
Address: Urbanizacion Las Playitas, 35629 Tuineje, Las Palmas, Las Palmas, Spain
Phone:  (0034) 928 860400

Email:  booking(at)playitas.net
Website:  www.playitas.net
Click here to return from Aparthotel Bahia Grande to Las Playitas Hotel
Click here to return from Aparthotel Bahia Grande to Home Page