Best Fuerteventura Restaurants


Making a list of the best Fuerteventura restaurants is quite a challenging task, because there are hundreds of restaurants on the island. The restaurants on the island cater for all tastes, with menus that are Spanish, British, International, Indian, Mediterranean, Italian and Fusion.  Most of the restaurants are located in the main resorts of Corralejo and Caleta de Fuste, which obviously cater for tourists.  There are, however, restaurants in all the towns and villages on the island, such as Puerto del Rosario, Antigua, Gran Tarajal, Tuineje, Pajara, Jandia and Morro Jable.
With a title like 'Best Fuerteventura Restaurants' it is difficult to suggest which ones they might be.  Everyone has their own personal favourites and ones that they would recommend to other people; and everyone has been to a restaurant where things weren't quite what they expected.  A restaurant experience is subjective, and what one person regards as a very good meal might not be what someone else thinks.
As someone who doesn't regularly go out for meals at restaurants, I thought that the best way to compile the list of the best Fuerteventura restaurants would be to research the reviews on Tripadvisor.
Given that 650 are listed for Fuerteventura, I decided to narrow the search to restaurants that have:
• the best Tripadvisor rating; 
• have had more than 200 reviews 
• and are still open at May 2014.  
These are my findings, listed out for Corralejo, Villaverde, El Cotillo and Caleta de Fuste:
Best Fuerteventura Restaurants in Corralejo


El Andaluz (Mediterranean)
5th Avenue (Fusion)
La Taberna (Spanish)
Los Pescaditos (British)
Infusion (American)
Pincha Cabra Tapas Bar (Spanish)
Cantante Café (International)
Avenida Restaurante (Spanish)
Fazz's  (Indian)
El Sombrero (International)
Café Antiguo del Puerto (Spanish)
La Playita (Mediterranean)
El Toro Bravo (Spanish)
Gregorio El Pescador (International)
Waikiki Beach Club (International)
Best Restaurant in Villaverde, Fuerteventura


Restaurants in El Cotillo


La Vaca Azul (Spanish/French)
Azzurro (Mediterranean)
Restaurants in Caleta de Fuste
15 (Eclectic)
Nestors (S. American/Fusion)
Fusion 22 (Indian/Continental/Fusion)
Fado Rock Steak House  (International)
La Taberna del Capitan (Spanish)
The Trafalgar (British)
Gambrinus (Spanish)
El Patio (International)
Lins Café Bar (British)
La Bodeguita (American/Italian)
Paprika
Wok Slowboat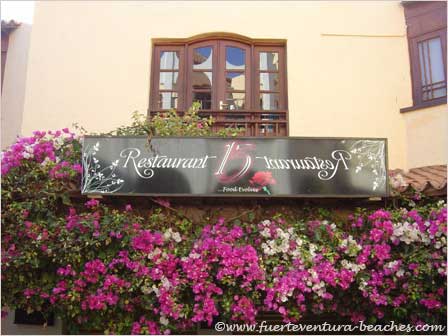 15, in Caleta de Fuste
Fado Rock in Caleta de Fuste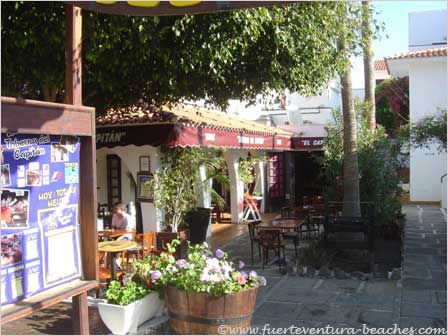 Taberna del Capitan, in Caleta de Fuste
Paprika, in El Castillo Shopping Centre (Caleta de Fuste)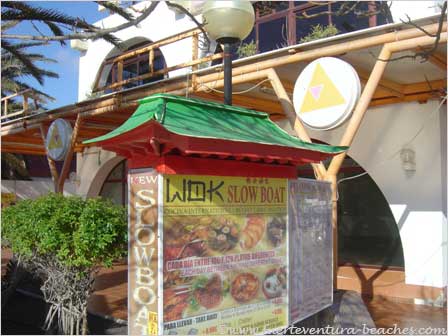 Wok Slowboat, also in Caleta de Fuste
It is interesting to note that nearly all the reviews on Tripadvisor show that there are so many best restaurants all over the island. They have 3 or more stars out of 5 as a rating.  So there are many hidden gems that don't appear on my list above because they haven't had 200 plus reviews or are recently opened. There are typical Spanish restaurants in most of the towns and villages on the island that are worth finding, such as the fish restaurants next to the beach in Ajuy,  Los Caracolitos at Las Salinas del Carmen, and Casa Santa Maria in Betancuria, which is a Michelin rated restaurant.
Casa Santa Maria, in Betancuria
So with a choice of around 650 restaurants on the island, the best thing is to go out and find your best restaurants – and I'm sure you'll not be disappointed.  Many people find a restaurant, return to it every time they are on holiday, and recommend to others. Buen apetito!

Click here to go from Fuerteventura Restaurants to Home Page