Fuerteventura Villas: A Great Holiday Option


It is the dream of many people to either own Fuerteventura villas or to holiday in one.  There are many different sizes of villas, with some being detached and some being semi-detached; and having between 2 and 5 bedrooms, and being set in various sizes of gardens up to 10,000 square metres.  Some will also have a private swimming pool, a jacuzzi, a BBQ area, a roof solarium, outside eating areas, air-conditioning or ceiling fans, and sunbeds.
Information About Villas


3-bedroom detached villa with pool and solarium
You'll find villas in all of the main holiday resorts, such as Corralejo, Caleta de Fuste and Costa Calma, and in some of the inland villages like La Oliva, Lajares, Villaverde and Triquivijate.

Some villas will be newly constructed (in the last 10 years) and others will have been built in the last 20 years, as Fuerteventura has only really developed since the early 1990's.  Major Fuerteventura villa developments have been built on the south side of Corralejo; in the new village of Tamaragua, between Corralejo and Villaverde; around the Fuerteventura Golf Club in Caleta de Fuste; and around the Las Salinas Golf Club in Caleta de Fuste.
Villas may be part of a community where there is a Community of Owners, which is a legal body that looks after the area where the villa is located.  Some may not belong to a Community, and are individually located.
Purchase and re-sale prices have dropped drastically, since the start of the economic crisis, so there are some excellent opportunities to buy at the moment.  Many villas are also sold fully furnished, so once the legal formalities are sorted, then you can move-in straightaway.

Fuerteventura Villas: Rental Prices
Rental prices  are relatively stable at the moment, so the price you pay for a weekly rental will depend on the size of the villa and the facilities that it offers.  The legality of renting out properties is currently under a lot of scrutiny by the Canarian Government, who are looking at the tax situation of people letting out properties.  Until this situation is clarified, many property owners are reluctant to let out properties by advertising through well-known rental websites, such as Tripadvisor.  Letting out to family and friends is allowed.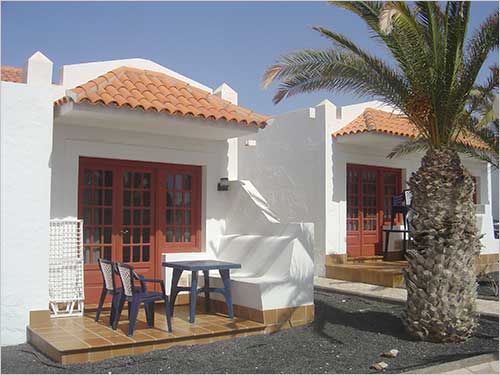 1-bedroom linked villa with communal swimming pool
Look for the Nearest Supermarket


In most villas it is necessary to do your own catering, so you may decide to go to one of the big supermarkets like Hiperdino, Mercadona, Padilla Spar or Inpescasa to do a big shop, or you may refer to dine out in the many restaurants.

In more remote places, it may be necessary to hire a car so that you have access to the shops, restaurants and beaches.  Car hire is relatively cheap on the island, and can be around 20€ a day for a small car; and the roads are quiet compared to elsewhere in Europe.

3-bedroom detached villa with communal swimming pool
Many people will remember their holiday in Fuerteventura villas, as it gives them an ideal place to enjoy facilities that are 'home from home', with the added benefit of the excellent weather and additional facilities, like a BBQ area, a swimming pool or a jacuzzi. Enjoy your time in Fuerteventura!