Fuerteventura Taxis
Fuerteventura taxis are readily available everywhere, including places such as the airport, harbour, and main shopping areas. If you are in a hurry, and don't want to rent a car, they are the best option. Remember to ask for a rough estimate of the total journey price, before getting in. 
The "Puerto del Rosario" logo on the doors of all the airport taxis
The Fuerteventura taxis that pick up from the airport in Fuerteventura are white, with the name and emblem of Puerto del Rosario on them.  They are the only taxis that are legally allowed to pick up passengers at the airport.

Each Municipality on the island has its own licenced taxis.  They are all white, and have the name and emblem of that municipality on the side.  These are Puerto del Rosario, La Oliva, Antigua, Tuineje and Pajara.  Any taxi can take passengers to the airport, but only those from Puerto del Rosario can pick up there, as the airport is in the Puerto del Rosario municipality.

Fuerteventura taxis are generally big cars, such as estates (for 4 passengers), and minibuses (for up to 7 passengers). Special disabled access taxis are also available.  Taxis offer a fast and efficient transfer from the airport, as roads on the island are generally fairly quiet.

The Fuerteventura taxis wait at the rank just outside the Arrivals building at the airport.  There is often a queue, but usually you don't have to wait for too long. The taxis operate 24 hours a day, 365 days a year.
Taxis have a meter, and the charging details are as follows: 
There are 2 tariff rates.  Tariff 1 is charged from 06.00 to 22.00 and Tariff 2 is charged from 22.00 to 06.00 and on Sundays and public holidays.
Tariff 1 – all or part of a km 0.53€; minimum fare 3.05€; price per hour waiting 14.53€ and the fractional rate for every 15 minutes 3.60€ 
Tariff 2 – all or part of a km 0.60€; minimum fare 3.60€; price per hour waiting 14.53€ and the fractional rate for every 15 minutes 3.60€ 
There is an airport supplement of 1.65€
Fuerteventura Taxis: Fares
When you get in any of the taxis it's worth asking how much the journey is going to cost, and to have the address of  your hotel or villa accommodation written down so that the driver can find it easily and there's no confusion.  Most drivers speak some English and German, so communication is not a problem.
The approximate fares for Fuerteventura taxis to the main destinations on the island from the airport are as follows:
Destination                        Distance in km         Tariff 1(€)     Tariff 2 (€)
Corralejo                                     39                         44                  49
El Cotillo                                    46                          50                  57
Las Playitas                                45                          49                  56
Costa Calma                               65                          69                  78
Esquinzo                                     83                          85                  94
Jandia                                         89                           93                 105
Caleta de Fuste                          10                           15                   17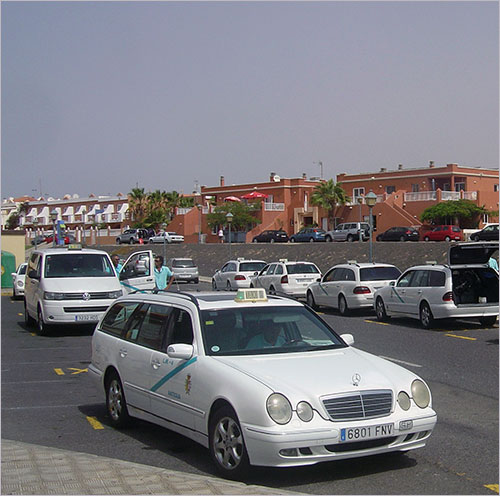 There is also the public bus service that can be used to get from the airport to the main holiday resorts.  The services are operated by Tiadhe.  There are limited bus routes that go through the aiport and pick up and drop off there.  The Number 3 service to Puerto del Rosario and Caleta de Fuste is the most frequent, and runs every half an hour in each direction.  The Number 16 bus is less frequent and goes to Morro Jable in the south of the island.  To get to Corralejo, you have to get on the Number 3 bus to the bus station in Puerto del Rosario, and then take the Number 6 bus to Corralejo.  Depending on the connection, the total journey time will be around 90 minutes.

Private Transfers: Hoppa
Another method of private airport transfer, and an alternative to  Fuerteventura taxis, is to book through Hoppa.  They provide low cost transfers at different price levels.
A prívate transfer with Hoppa can be booked through their website.  They offer 3 types of transfer:
1. A private transfer for between one and four people
2. A bus transfer with several stops
3. An Express bus, with a maximum of 4 stops
As a comparison, a private transfer by Hoppa to Caleta de Fuste for 4 people would cost 10.60€; a bus transfer for 4 people would cost 11.38€ and a Speedy bus transfer for 4 people would cost 25.82€.
To Corralejo, a private transfer by Hoppa for 4 people would cost 33.60€; a bus transfer 21.86€; and a Speedy bus transfer 44.85€
Bookable return transfers cost double the above single journeys.
So, looking at the various options available, it shows that  Fuerteventura taxis offer a cheap transfer,that is also fast and efficient.  The tariffs are set by the Canarian Government, and so are not liable to an overnight increase.  Seat belts are compulsory for all passengers, and booster seats and car seats for babies should also be used.  When considering the options for an airport transfer you need to take into account the time factor involved, and in most cases Fuerteventura taxis will take you on the direct route without any unnecessary stops.  Your hotel, apartment or villa will have the taxi number to call for your return journey, or you can book online at http://www.taxisfuerteventura.es  By doing this you will ensure that your holiday gets off to the best possible start and at the end you have one less thing to worry about.