Shopping in Fuerteventura: Where to Go
We have made a short guide about shopping in Fuerteventura, so that you are aware of the best places to go, to have a look around or purchase goods.  As Fuerteventura has a low local population, it doesn't have very large shopping centres, like the ones you find in the U.K. or Europe. Shops are either concentrated in commercial centres, alongside restaurants and bars, or are grouped together on main streets.
Useful Tips for Shopping in Fuerteventura
• In the main shopping centres, the shops are open all day, but in other areas, the smaller shops will close at siesta time in the afternoon, and stay open until 10pm.

• Generally, shops in non-touristic areas, will not be open on Sundays
• The Sales dates are set by the government, so you will find that they start on 6th January for 2 months, and at the beginning of July for 2 months.
• Most supermarkets charge about 5 cents for a plastic bag, and 50 cents for a re-useable cloth bag.
• In some shops you will have to put your own shopping bag in a locker before doing your shopping.
• If you are paying with a debit or credit card you will need to show I.D.
• The Hiperdino Express supermarkets in the main resorts are expensive, so do check the prices, and if you are doing a big shop it is worth going to one of the bigger chains of supermarket, like Mercadona, Hiperdino or Inpescasa.
• Take care when buying electrical goods or jewellery from small retailers as everything might not be legitimate.
• Be aware that not all items on stalls at the island's markets will be the genuine article.  Be prepared to haggle over a price.
Where to do your Shopping in Fuerteventura

Puerto del Rosario
There are three main shopping streets in the capital- Calle Leon y Castillo, Calle Juan de Betancourt and Calle Virgen de la Peña.  The best way to see what shops are there, is to walk round the capital as there are many 'hidden' shops which have small front doors and windows but are huge inside.  These shops support the local population so you will see a complete range of shops.

There is a Lidl supermarket just out of town, off the road to Antigua. Opposite Lidl is the Risco Prieto industrial estate which is the home of the Electron electrical store, furniture warehouses, and hardware stores. On the north side of the town there is a Mercadona supermarket, which is the biggest on the island. 
Centro Comercial Las Rotondas: Fuerteventura's Best Shopping Centre in Puerto del Rosario (and on the Island)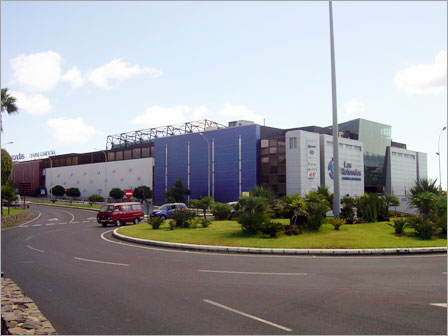 The best place for shopping in Fuerteventura is the shopping centre Las Rotondas, which is between the two main road roundabouts on the south side of the capital. It has 2 underground levels of parking, and 3 floors of shops and restaurants/bars.  It is the biggest shopping centre on the island with over 100 units, including a Hiperdino supermarket, and shops like C & A, H & M, Intersport, Sports Zone, New Yorker, United Colours Of Benetton, Springfield, Claire's, Etam etc.  On the top floor there is a Chinese buffet Restaurant, a large international restaurant and a Burger King.  Car parking is free, but it is difficult to find the entrance! – there are two entrances on the east side.  The Centre is open from Monday – Saturday from 10.00 until 22.00 (closed Sunday).
Corralejo
For shopping in Fuerteventura in the north of the island, Corralejo is the place to go. Most of the shops in this northern tourist resort are on either side of the main street, the Avenida Nuestra Señora del Carmen, or in commercial centres. To the south of the resort is a Mercadona supermarket.

There are 2 main commercial centres:
El Campanario: This is a medium size shopping centre on the east side of the resort, with 33 occupied units, and has an easily visible bell tower.  It has a Hiperdino supermarket and a range of shops and restaurants.  It is popular on Sundays and at weekends, when they usually have entertainment in the central square.  It has free underground car parking, and is open from 10.00 – 22.00. Click here to read more about it.
A view of the front of El Campanario Shopping Centre
Las Palmeras: It is located on the main shopping street, and has about 20 units.  A Padilla Spar supermarket, a range of shops, and cafes, can be found here.  It is open all day from 10am. Free underground car parking is available. Click here to read more about this mall.
Las Palmeras Shopping Centre
Caleta de Fuste
There are some small commercial centres around the resort, with a small range of shops. The supermarkets around the town are Hiperdino Express ones, so watch the price of what you buy!  In the centre of Caleta the main shopping area is the C.C. El Castillo, next to the Barcelo Hotel. 

There are two main shopping areas near Caleta:
C.C. Atlantico: It is located 300 metres to the south of Caleta. This big mall has a Yelmo multi-screen cinema, a large Padilla Spar supermarket, a bowling alley, an amusement arcade, a selection of shops, and some restaurants. Opposite the shopping centre, next to the main road, is the only McDonald's restaurant on the island, which also has a drive-thru called "McAuto".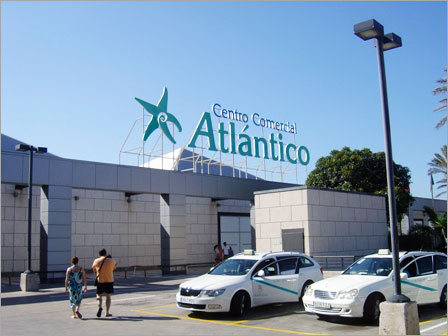 Centro Comercial Atlantico in Fuerteventura
Costa de Antigua Industrial Estate – 1 km. north of Caleta is the industrial estate which has a Mercadona supermarket, an IKEA outlet, two Chinese warehouses that sell most things, a toy warehouse, a furniture warehouse, a freezer food centre, and a fruit and vegetable warehouse that is open to the public.
Ikea, the Swedish furniture and household items shop, has a ordering and pick-up showroom, which is located between Caleta and the airport. Visiting this store is recommended for residents, and not for tourists, because they don't carry stock. Everything has to be ordered from the nearby island of Lanzarote, where the warehouse is located. Click here to read more.
Jandia and Morro Jable
For shopping in Fuerteventura in the south of the island there are a lot of shops, and restaurants, along the promenade in front of the hotels that face the sea.  In the town of Morro Jable there is a range of shops and small supermarkets that meet the needs of local people.  In the northern part of Jandia, at Butihondo, there is a Mercadona supermarket.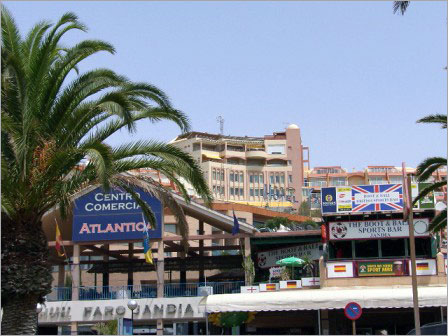 The Markets in Fuerteventura
There are markets held on the island on 5 days of the week.  These markets have a range of stall holders selling bags, belts, clothes, shoes, jewellery, gifts etc which are aimed at the tourist market.

These markets are held in the following towns:
Corralejo:  on Tuesdays and Fridays from 8am – 2pm;
Caleta de Fuste: on Tuesdays and Saturdays from 8am – 2pm;
Morro Jable: on Thursdays from 8am-2pm and in
Costa Calma: on Sundays from 8am – 2pm.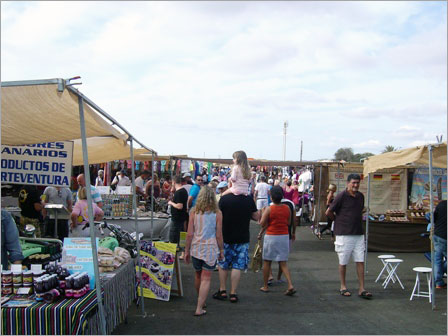 Craft Shopping in Fuerteventura
Craft markets are held at the Casa de Coroneles, in La Oliva, on Tuesdays and Thursdays from 10am-2pm, in Lajares on Saturday mornings, and in El Campanario Centre in Corralejo on Thursday and Sunday mornings.

So shopping in Fuerteventura is an enjoyable experience as it's very nice to browse and shop in the sunshine, and you are never too far away from a café or bar.
Click here to return from Shopping in Fuerteventura to Home Page