Hotels in Corralejo Fuerteventura


If you are looking for information about hotels in Corralejo Fuerteventura, then the following is a summary of information about the principal hotels in the resort.  Corralejo is a very popular resort at the north of the island, and is 30 km away from the airport.  In the last 30 years, the town has grown from a small fishing port to become the biggest tourist resort on the island. It offers a wide range of accommodation from standard apartments to 5 star hotels.  Corralejo is well known for being a cosmopolitan resort which caters for all types of holidaymakers. The resort is popular with all types of people including surfers, windsurfers, couples and families, as it offers a wide of range of activities, shops, restaurants and bars, and a variety of beach types, including the nearby sand dunes of the National Park.  It is an all year round resort as the favourable climate attracts people every month of the year.  The resort also has a ferry link to the neighbouring island of Lanzarote which takes only 20 minutes, so you can take a day visit to see what that island offers.
Below is a summary of the main hotels in Corralejo Fuerteventura, that have been rated as 4 points and above, on TripAdvisor, by people who have stayed in them.

Best Hotels in Corralejo Fuerteventura: Gran Hotel Atlantis Bahia Real   (5 star)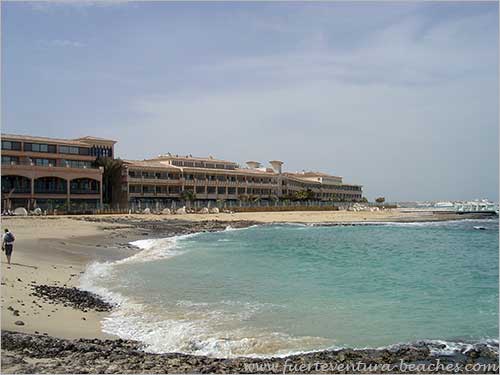 The Gran Hotel Atlantis Bahia Real is a 5 star hotel, and is located next to the beach on the eastern side of the town, and close to the National Park of the sand dunes.  It has an exceptional view of the sea and the Island of Los Lobos and Lanzarote beyond. The hotel has a wide range of 242 rooms and suites; 5 restaurants, two swimming pools, a bar and a spa, and is one of the best hotels in Corralejo Fuerteventura.

Suite Hotel Atlantis Palace   4 star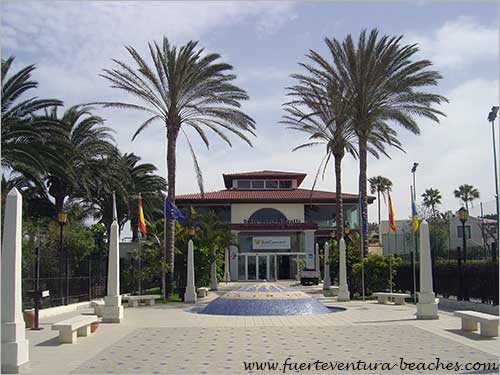 The Suite Hotel Atlantis Fuerteventura Resort is a 4 star hotel. It is centrally located in Corralejo, and is only a 100m  walk to the beach, and to the "El Campanario" Shopping Centre. It offers 383 suites set in tropical gardens around the 7 swimming pools.  It is a high quality all inclusive resort, that offers a range of facilities for families and couples.  There are 3 restaurants and 4 bars. The hotel has a fitness center and a Spa.

Hotel RIU Palace Tres Islas   4 star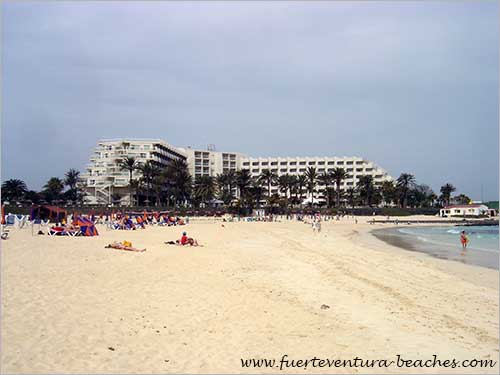 The Tres Islas hotel Fuerteventura is a 4 star hotel, that is located in a priveledged position overlooking the beach and sand dunes. It has 372 bedrooms which can be found on 5 floors.  It is popular with couples and families. There are 2 swimming pools (one heated in the winter months) with sunbeds, parasols and towels and a children's pool.  The hotel has a Spa, two restaurants and bars.  There is a wide range of sporting facilities available.

Barcelo Corralejo Bay    4 star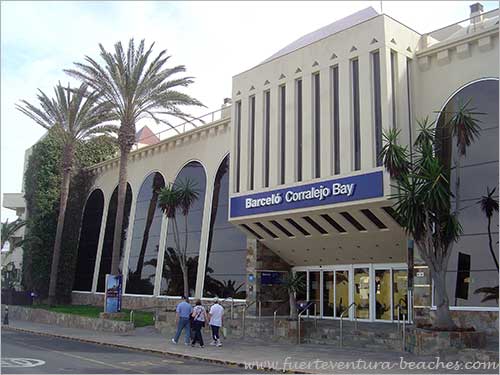 This 4 star hotel is centrally located for the town and is 50m from the beach. The Barcelo Corralejo Bay is for adults only.  It has 231 rooms which have balconies and offer excellent views of the Atlantic Ocean.  The hotel has a large swimming pool area, a spa and gym.

Club Hotel RIU Oliva Beach Resort   3 star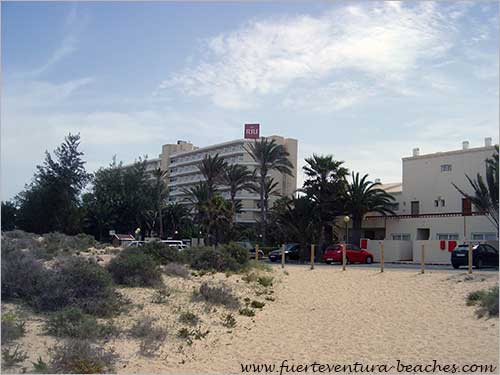 The Riu Oliva Beach Hotel Fuerteventura is a 3 star hotel that occupies a priveledged position on the sand dunes of the National Park. It is also located right next to the beach. It is an all-inclusive hotel with two swimming pools and a range of other facilities.  In the main building there are 401 guest rooms, and in the annexe alongside there are a further 413 rooms.

Bahiazul Villas & Club   4 star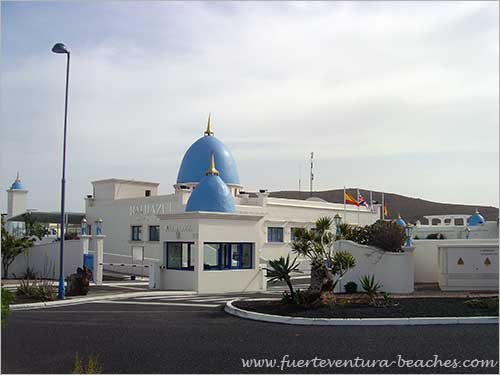 Bahiazul Club & Villas is a 4 star resort style hotel complex, of 55 villas, is located on the south side of Corralejo.  It is in a quiet area away from the town centre.  Guests have their own villa with 3 bedrooms, pool, jacuzzi and private terrace.  The hotel has a fitness centre, spa and restaurant.

Las Marismas de Corralejo   3 star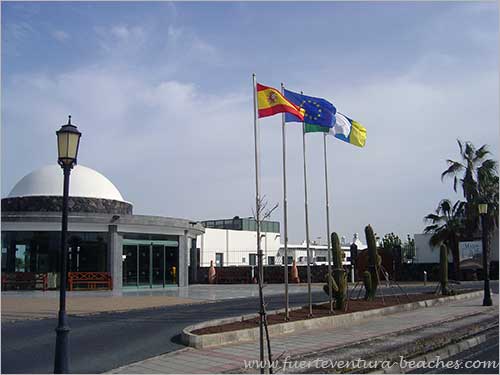 The 3 star Las Marismas de Corralejo offers modern 3 star accomodation in 232 apartments that are located in landscaped grounds with 2 swimming pools.  The hotel offers facilities suitable for adults and families, with a restaurant, bar, gym and miniclub.

Click here to return from hotels in Corralejo Fuerteventura to Home page