Atlantico Shopping Centre in Fuerteventura
The Atlantico Shopping Centre is located 2 kilometres south of the centre of Caleta de Fuste, between the main road, the FV-2 and the beach. Access is from a roundabout, close to the only McDonald's Restaurant on the island.  It is an indoor shopping, restaurant, and entertainment area, with 40 establishments.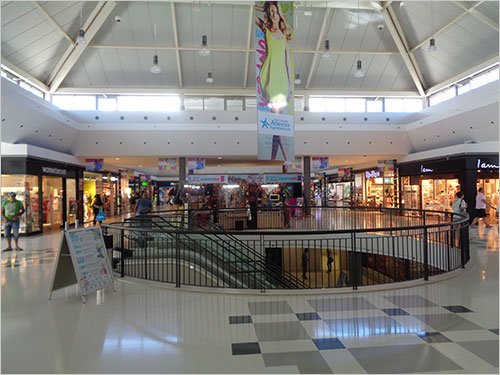 Inside the Atlantico Shopping Centre
List of Shops
The shops include a  large Padilla Spar supermarket, Bijou Brigitte, Nina Rodriguez, Calzados Navarro, Estadio Sport, Inside, Natura, VM, Multiopticas, I Am, El Potro, Joyeria Royal Diamond, Macava Perfumeria, Policeshop, Springfield, Womens Secret, Gama, Manhattan Boulevard and the Phone House.  There are also some restaurants and bars: Cafe Gala, Shivam Indian, Ocean View, Restaurant Hong Kong, Pana & Pomodoro.
The centre also has a Yelmo cinema, which only shows films in Spanish.  There is also a ten pin bowling alley, and a small amusement arcade.
Special events are held weekly, usually on Saturday and Sunday evenings, on the patio area on the beach side of the centre.
This shopping centre is open 365 days a year, with the shops open from 9.30am - 10pm, but the restaurants, cinema and amusement arcade are open until much later. There is free car parking under the centre, and there is a bus stop outside the centre on the main road.

Contact Details
Carretera de Jandía, Km 11.
Zip code 35610 - Antigua (Fuerteventura)
Telephone: +34 928 163 711
E-mail: administracion.ccaf( at )ccatlantico.com
Website: http://www.ccatlanticofuerteventura.com/
Facebook page (Recommended because the regularly update it):  https://www.facebook.com/centrocomercialatlanticofuerteventura/?fref=ts
How to Get to Atlantico Shopping Centre
This shopping centre is conveniently located right by the FV-2 motorway, and can easily be reached from the north or the south of the island. You can reach there by bus, or by car. Taxis are always available at the door.
Click here to return from Atlantico Shopping Centre to Shopping in Fuerteventura
Click here to return from Atlantico Shopping Centre to Home page