Bahiazul Villas & Club Corralejo Resort
The Bahiazul Villas & Club is a 4 star resort style hotel complex, of 55 villas, and is located on the south side of Corralejo.  Guests can have their own villa with 3 bedrooms, pool, jacuzzi and private terrace.  The hotel has a fitness centre, spa and restaurant.
Bahiazul Villas & Club Location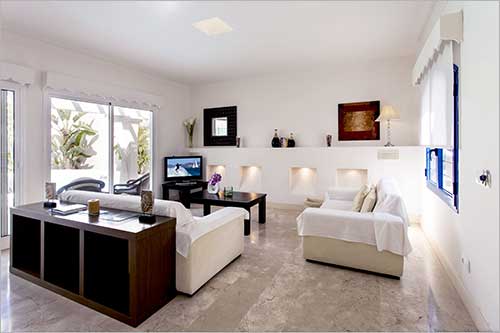 The complex is located on the southern edge of the resort of Corralejo, so is a 30 minute walk into the main part of town. The area around the resort is quiet. It is close to a Mercadona supermarket.


Hotel Facilities


The Restaurant Bahiazul serves buffet style breakfasts from 08.30-11.00 and evening dinner from 19.00-22.30.
There is a Spa and Fitness Club, and a paddle tennis court.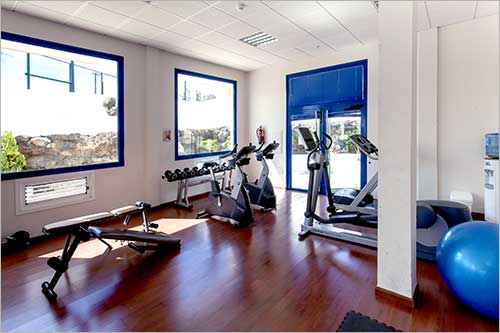 Room Facilities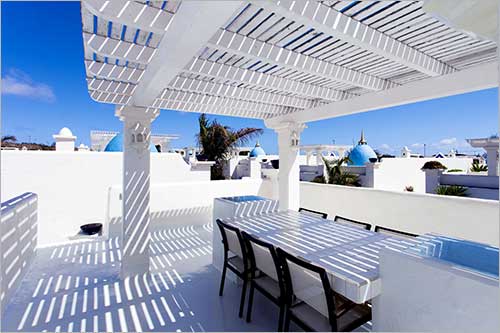 The unique thing about Bahiazul, is that you have all the amenities of a large hotel yet you stay in your own luxury villa.  All the villas have a private swimming pool, a Jacuzzi, a roof terrace, a BBQ and a Balinese bed.
The villas are designed to accommodate up to 6 people, and there are three different types: Deluxe Club Villas, Superior Club Villas, and Premier Garden Villas.
The villas have an indoor space of 120 square metres, and an outdoor area of 240 square metres, which includes the roof terrace.
Each villa has:
3 bedrooms, each of them with an en-suite bathroom and air-conditioning;
A living room and a bathroom
A fully fitted kitchen and all appliances including a washing machine and a dishwasher
The outside area includes a private pool (heating at an additional cost) and a Jacuzzi, with sofas, dining table, out-door shower and sun beds
On the roof terrace is a BBQ, a dining table and chairs, and a Balinese bed
Free WiFi
A built-in music system to connect to an iPod or iPhone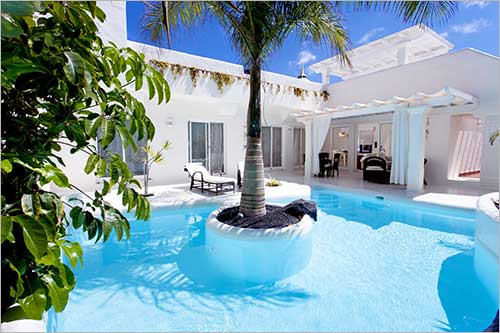 Imagine having your own house with a pool!

What Guests Are Saying About This Resort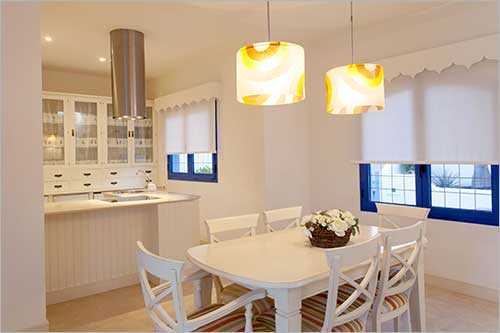 People who have stayed at these villas, leave reviews on TripAdvisor.  The overall rating is 4.5 out of 5, taking into account the location, sleep quality, rooms, service, value and cleanliness. These are 10 comments that have been put on there, which seem to sum up people's opinions –
'Fabulous villas', 'great family holiday',' excellent and relaxing family holiday', 'luxury villas with private pool and Jacuzzi hot tub', 'great holiday', 'a superb holiday in a truly amazing place', 'heaven on earth', 'very nice relaxing stay', 'thoroughly brilliant' and 'intending to return'.
Bahiazul Villas & Club Video



How to Get to This Resort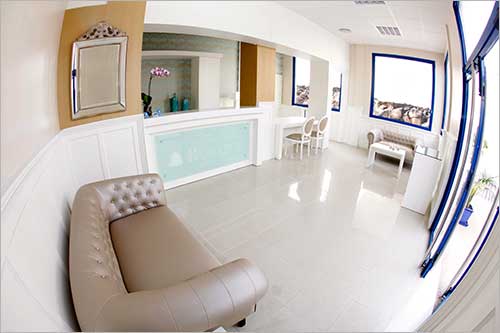 A nice view of the Bahiazul Villas reception desk
Bahiazul  is a 48 km drive by car from Fuerteventura Airport, so it is a 55 minute drive to the hotel.  It is a 42 km drive along the FV-1 and FV-2 roads.  On exiting the airport you turn on to the FV-1 and head for Puerto del Rosario.  After 3.5 km, at the direction sign for La Oliva and Corralejo, take the slip road on the right which is the Puerto del Rosario bypass.  Continue on the bypass by following the Corralejo signs, and this then becomes the FV-2 road.  Follow this road north all the way to the sand dunes; through the dunes and into Corralejo.
At the first roundabout take the second exit on to Calle Pedro y Guy Vandaele and follow until you reach the next roundabout. Take the third exit into Calle Guirre at the Tamarindo Commercial Centre.  Drive along this road and at the next roundabout take the 2nd exit and stay on Calle Guirre.  At the next roundabout, take the 2nd exit and stay on Calle Guirre.  At the next roundabout take the first exit into Calle Pardelas, and Bahia Azul is immediately on the left.
Bahiazul Villas & Resort Contact Details
Address: Calle Pardelas 7
Corralejo, Fuerteventura
Phone: (0034) 928 854 958
Email: info(at)bahiazul.com
Website: www.bahiazul.com
Click here to return from Bahiazul Villas & Club to Hotels in Corralejo Fuerteventura
Click here to return from Bahiazul Villas & Club to Home page