Barcelo Fuerteventura Hotel Castillo Beach 


The Barcelo Fuerteventura Hotel Castillo Beach Resort is a large, 4 star hotel resort complex in the centre of Caleta de Fuste.  It has a mix of apartments and villas, and is popular with all types of people – older couples, young couples and families due to its location, the choice of different types of accommodation and the facilities that it offers.
Location
This resort is located on the eastern side of Caleta de Fuste, and fronts on to the rocky seafront to the east and the sandy beach to the south.  All rooms are within 8 minutes of the beach and a short distance from the centre of Caleta de Fuste. The harbour area is close by with a dive center, a fun water sports hire center, and a range of bars and restaurants.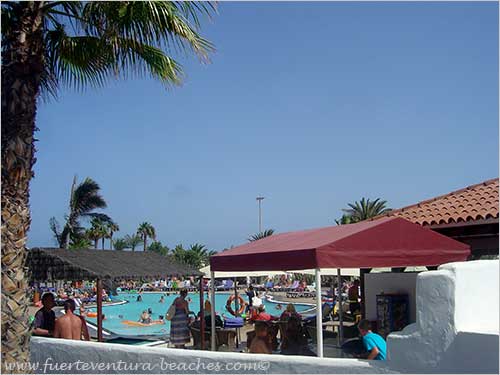 The swimming pool
Hotel Facilities
There are over 400 rooms, and over 1200 guests can be accomodated. There are 5 swimming pools and 4 swimming pools for children.  There is day and night time entertainment for all the family, and a mini club for children.  There is a central Reception building with a minimarket and gift shop.  The main self-service restaurant is called "El Castillo", and the evening entertainment takes place in the "El Puerto" auditorium in the harbour area, with a mini disco, and a two cycle of professional and in-house shows..  There is also a selection of bars and cafes.

Room Facilities
The rooms include:
Junior Deluxe Ocean View
Superior Family 
Superior Family with sea view
Bungalows with 2 bedrooms
Deluxe studio
All rooms have air-conditioning, TV, telephone, kitchen, separate bedroom, fully equipped bathroom and a terrace. Some rooms have a Jacuzzi on their terrace, for which a supplement is paid.
One of the bungalows of Castillo Beach Resort

What Guests Are Saying About This Hotel
People who have stayed at the Barcelo Fuerteventura Hotel Castillo Beach leave reviews on TripAdvisor.  The overall rating is 4.0 out of 5, taking into account the location, sleep quality, rooms, service, value and cleanliness. These are 10 comments that have been put on there, which seem to sum up people's opinions:
'holiday with no fault', 'a very good hotel offering excellent standards in all categories', 'not a 4 star', 'another great Barcelo', 'this is a resort, so is spread out', 'great family resort', 'lovely location', 'good, but too spread out', 'fab stay', 'lovely location' and a 'fantastic holiday.
How to Get to Barcelo Fuerteventura Hotel Castillo Beach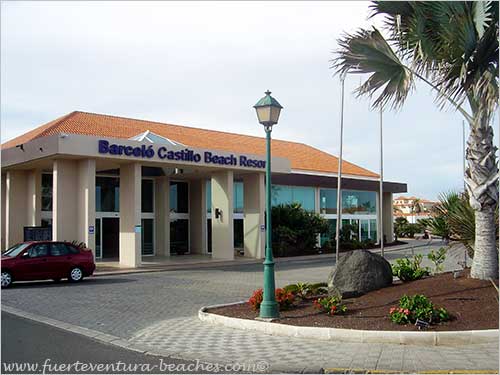 The Entrance of the Barcelo Castillo Beach resort
This hotel is only 7 km. away from the airport, so the transfer time is only 10 minutes.  When exiting the airport then take the FV-2 road which indicates Caleta de Fuste and Morro Jable. Drive along the FV-2 until you arrive in Caleta de Fuste.  Go straight on at the roundabout with the castle on it, next to the bus station, and at the next roundabout take the third exit and drive along the Avenida del Castillo into central Caleta de Fuste.  Drive about 1500m along this road until you see the main reception building on the right-hand side.
Contact Details
Phone: (0034) 928 163100
Email: elcastillo(at)barcelo.com
Website: http://www.barcelo.com/barcelohotels/en_gb/hotels/spain/the-canary-islands-fuerteventura/hotel-barcelo-castillo-beach-resort/general-description.aspx
Click here to return from Barcelo Fuerteventura Hotel Castillo Beach to Caleta de Fuste hotels
Click here to return from Barcelo Fuerteventura Hotel Castillo Beach to Home page