El Campanario Shopping Centre
El Campanario Shopping Centre is another of the best shopping malls in Fuerteventura. It is a self-contained shopping centre in the south-east of Corralejo, which is the resort in the north of the island.  The centre has a bell tower, 25 metres high, and with 32 bells. You can climb up there, although it is extremely loud when the bells sound on the hour mark. The centre has a range of shops and restaurants which are lined along small, outdoor streets.  There is often entertainment organised in the central square, such as live music, every weekend, and other events during the rest of the year.
Opening Hours and Shop List
El Campanario is open from 9am - 10pm, every day of the week. There is free underground car parking.
Many people come here to buy food from the Hiperdino supermarket. It also has other quality shops such as:  an ADN Factory (shoes), BAOBAB (kids), Catrina, Chup Chup, Desigual, Cristalida, El Flamenco, Fund Grube, Gecko, Intersport, Marumba, Natura, Mercado de Plantas, Natural Optics, Richstyle, Springfield, Sunglass Hut, T-Shirt Palace, T-Shirt World, Womens' Secret, and Xera.  There are nine cafe/bar/restaurants.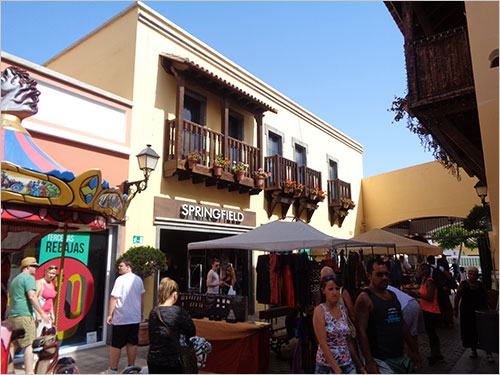 The Markets
A second-hand market is held on Sunday mornings. Every Thursday and Sunday morning from 10am - 2pm there is a Canarian handicraft market. In the video below, you can see what the mall looks like on a Sunday.


El Campanario Shopping Mall Details
Address: 
Calle Hibisco nº1 - 35660
Corralejo - Fuerteventura
Telephone: (+34) 928 536 713
Website: http://commercialcentercampanario.com/
How to Get There
If you're coming from the south of the island, take the FV-2 motorway, until the capital, Puerto del Rosario, and then the FV-1 all the way north, until Corralejo. If you wish to avoid entering the city, you can take the FV-3 motorway, and then the FV-1 north.