Club Jandia Princess (4 Star)


The Club Jandia Princess is located on the beach called Playa de Esquinzo , just north of the Jandia resort.  It is an all-inclusive hotel that is made up of 10 buildings.  The hotel is different in that it has an adults-only area, and a family area, and so meets the needs of both groups.  The hotel is an ideal place for those seeking a quiet relaxing holiday.
Club Jandia Princess Location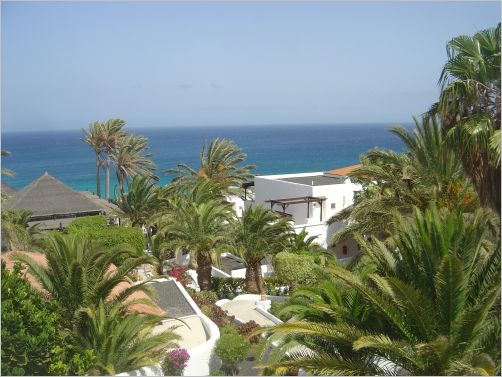 The hotel is located in Esquinzo, which is about 8km north of the resort of Jandia.  The hotel has steps that lead down to the yellow sand and turquoise sea that is a feature of the famous Sotavento beach.  The hotel is 70km away from Fuerteventura Airport so takes about 90 minutes to get to.  10km away, next to Jandia, is the small town of Morro Jable.  This town has a harbour where you can get a ferry to Las Palmas in Gran Canaria.
Hotel Facilities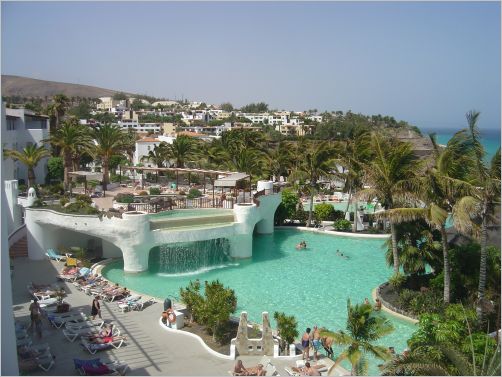 The hotel has a large main swimming pool and a children's pool.  In the adults-only area there is a relax pool, a naturist pool and a chill-out pool.  Also in the adults-only area is a Wellness Area, a Zen Area and a gym.  There are 4 tennis courts, 2 padel tennis courts, a multi-sports area and an archery area.  For children there is a mini-club with day and night time activities, a farm area with animals, and a play area.
The main Antigua Restaurant is buffet style, and has dining sections which are separate for adults and families. The Spanish restaurant El Lagar is a la carte.  The La Choza snack bar serves snacks during the day, and changes to a la carte in the evening.  There are 4 bars – El Palmeral, Betancuria, Coco Loco and Bar Chill Out.
Different levels of all-inclusive are offered to guests, and this determines what colour wristband guests wear and what facilities/services that they are entitled to.
Room Facilities
The hotel has 512 rooms, which are made up of Standard Rooms, Ocean Rooms, Superior Family Rooms, Suites, Adults-Only Rooms, Adults-Only Ocean Room and Suite Only Adults.  All rooms are fitted with a minimum of air-conditioning, telephone, flat screen TV, fully fitted bathroom, and balcony or terrace.  
What Guests saying about this Hotel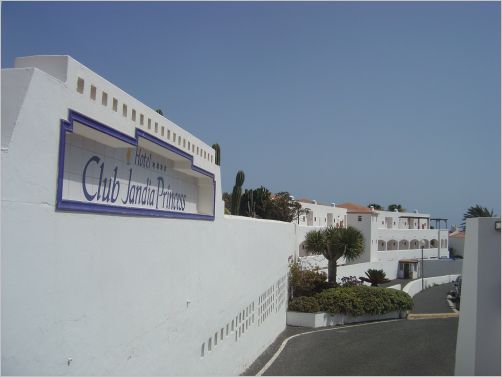 People who have stayed at the Club Jandia Princess leave reviews on TripAdvisor.  The overall rating is 4 out of 5, taking into account the location, sleep quality, rooms, service, value and cleanliness. These are 10 comments that have been put on there, which seem to sum up people's opinions –
'The most relaxing holiday in years', 'a very enjoyable experience', 'you need to go here', 'lovely hotel', 'nice location with good facilities', 'decent hotel – room for improvement', 'picturesque location and lovely hotel', 'perfect holiday', 'a truly brilliant hotel for a family holiday¡, and 'lovely stay'.
Hotel Video


How to Get to the Hotel


As you leave Fuerteventura Airport you take the exit on to the FV-2, which is sign-posted Morro Jable.  You stay on the FV-2 all the way to Jandia which is about 70km, and takes about 90 minutes.  After Costa Calma the FV-2 becomes dual carriageway and you continue along this road and turn off at Exit No. 79.  At the first roundabout take the first right on to Calle Gran Canaria, then the next right on to Calle Lanzarote, and then left into Calle Gran Canaria once more.  The hotel Reception is on the right.
Contact Details
Address: Gran Canaria, 11 ( Urb. Butihondo ) E-35626 Pájara, Fuerteventura
Tel:  (0034) 928 544089
Email:  reservas.jandia(at)princess-hotels.com
Website:  www.princess-hotels.com/en/hotels-fuerteventura-hotel-jandia-princess-4-stars.html
Click here to return from Club Jandia Princess to Jandia Hotels