El Matorral Beach


El Matorral beach belongs to the municipality of Pajara and is located in the Jandia peninsula on the southern part of the island of Fuerteventura. If you look closely in the map below,  at the center of this beach, the island forms an angle, where the geographical orientation of the beaches (coming from the north) changes, from facing east, to facing west. The limits of this beach are, on one side the Piedras Caidas residential area, and on the west is Morro Jable.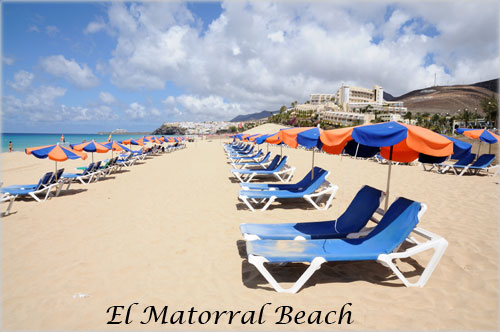 At the end of the 1970s, tourism towards this area increased drastically. This area's economy, together with Morro Jable's, shifted from living on farming and fishing to living on tourism, which is presently the economic engine.


El Matorral beach is just over four kilometers long, and the average width of the sandy area is 60 meters, though at some points you can find a few hundred meters of native vegetation. This is where migratory birds make the leap from the Africa to northern Europe and vice versa . The fine white sand makes the beach look clean and like paradise. The same applies to the waters off its coast. With a mixture of colors ranging from light green and turquoise, the waters have spectacular qualities for swimming in them.
Its waters are calm most of the year , though it ocassionally gets windy. These features allow water sports to be practiced here, such as kitesurfing and windsurfing. It also is a great place for diving, due to its clean and crystal clear water. There are training schools nearby where tourists can rent equipment, and learn more about these sports.


There is a nice promenade along the beach. Although there are places where the distance to the water is wider, you can enjoy cycling (bicycles are available for rent) or going for a good walk. There is also a wide choice of restaurants along the promenade in the area closest to Morro Jable.


A major attraction located on El Matorral beach is the lighthouse, which is over 60 meters tall. It was built in the early 1990s and helps orient the ships.


We must not forget that El Matorral beach is one of three Pájara beaches awarded with the  Blue Flag status , giving it a special tourist quality . The other Pájara beaches that have been awarded a  Blue Flag are Butihondo, and Costa Calma.