Elba Carlota Beach & Convention Resort 


The Elba Carlota Beach & Convention Resort is a 4 star hotel in Caleta de Fuste.  The hotel opened 11 years ago, and is popular with couples, families and golfing groups. The hotel is the location for the only licensed Casino on the island.
Location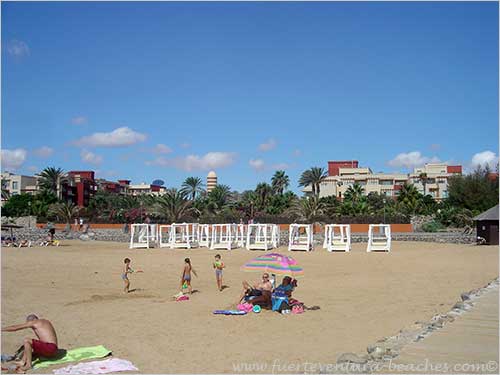 This hotel is prominently located right on the beach
The hotel is at the southern end of the resort and is part of the Fuerteventura Golf Club development, with the golf course being across the road.  The hotel fronts on to the promenade which goes along to the Atlantico Commercial Center next door, and overlooks the sandy, lagoon style beach.  The Commercial Center has a supermarket, shops, restaurants, bars, bowling alley and cinema. The centre of Caleta de Fuste is 1 km away to the north.  For those without a car, the hotel has a courtesy coach service that runs regularly to the Commercial Centre and into Caleta de Fuste.

Hotel Facilities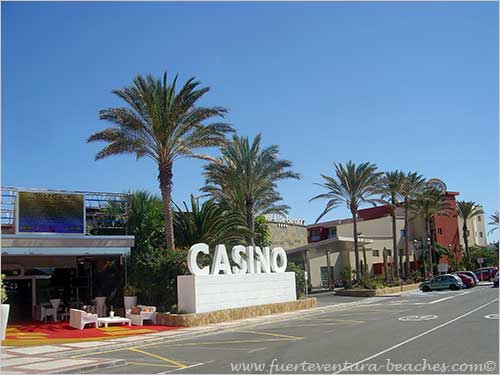 View of the Casino Entrance
The hotel has 346 bedrooms and 23 suites, with a total of 692 beds.  There are two swimming pools and a children's pool.  The hotel has facilities for family entertainment and there is mini club for children. The hotel offers direct access to the Gran Casino de Antigua.  The hotel also has a large Convention Center.

Room Facilities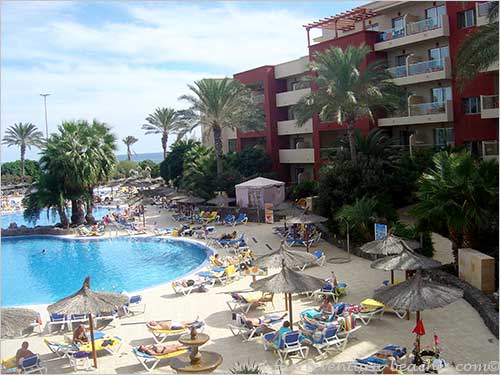 Some of the rooms of the Elba Carlota face the pool
There are a range of different types of rooms.  Each room has a terrace or private balcony, a telephone, air conditioning, mini bar, LED TV, desk, tea and coffee making facilities and a fully equipped bathroom.  The rooms are standard doubles, 1adult and 1 child, 1 adult and 2 children, family rooms and Junior Suites.  Some rooms have sea views.

What Do Guests Think of This Hotel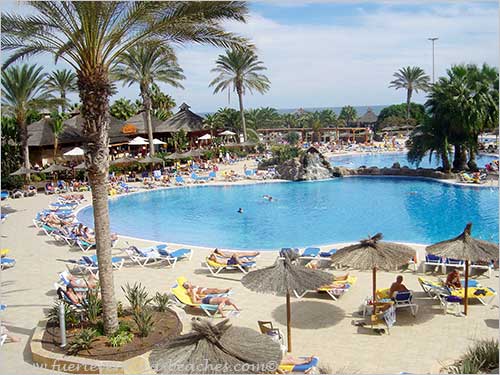 View of the hotel pool
People who have stayed in this hotel leave reviews on TripAdvisor.  The overall rating is 4.0 out of 5, taking into account the location, sleep quality, rooms, service, value and cleanliness. These are 10 comments that have been put on there, which seem to sum up people's opinions –
'great family hotel, lovely beach', 'great hotel', 'great position', 'blessed and relaxed', 'great value for money', 'lovely holiday', 'one of our best holidays', 'only hotel we return to year after year', 'reasonable, but not 4 star', 'so glad we went', and '7 days in paradise'.
Hotel Video

How to Get to Elba Carlota Hotel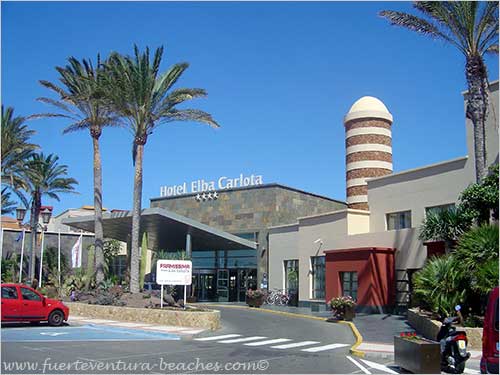 Entrance of the Elba Carlota hotel
The hotel is only 15 minutes by car from the airport.  Many people hire a car for their holiday from the airport, or get a taxi that will cost about 15€. The hotel is situated on the south side of Caleta de Fuste, off the FV-2 road.  So from the airport follow the signs south for Caleta de Fuste along the FV-2.  In Caleta de Fuste there are two roundabouts – go straight on at the roundabout with the castle on it, and then go straight on at the roundabout in central Caleta.  This road will then take you 1km along to the next roundabout, where you turn left in front of the Atlantico Commercial Centre. Take the second right at the roundabout and drive along the road that runs parallel to the FV-2 and the hotel reception is 400m on the right

Contact Details
Avenida de las Marismas 3
35610 Antigua - Fuerteventura
Telephone: (0034) 928 160 326
Email: elbacarlota(at)hoteleselba.com
Website: https://hoteleselba.com/es/hotel-elba-carlota-beach-convention-resort
Click here to return from Elba Carlota Hotel to Caleta de Fuste hotels