Elba Palace Golf & Vital Hotel


The Elba Palace Hotel is a 5-star hotel in Caleta de Fuste, which is also the club house for the Fuerteventura Golf club, as it is situated on the golf course.  It has been designed on a traditional Canary Island style with wooden balconies and a central courtyard that is planted with palm trees.  It is popular with golf enthusiasts and adults who are looking for a high class, quiet location.  There are no facilities for children, so is not really recommended for children.
Elba Palace Hotel Location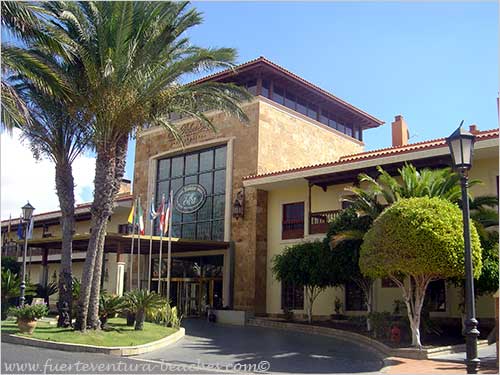 It is 800 metres from the beach and nearest Commercial Centre, with its supermarket, shops, restaurants, bars, bowling alley and cinema. The centre of Caleta de Fuste is 2 km away.  For those without a car, the hotel has a courtesy coach service that runs regularly to the Commercial Centre and into Caleta de Fuste.

Hotel Facilities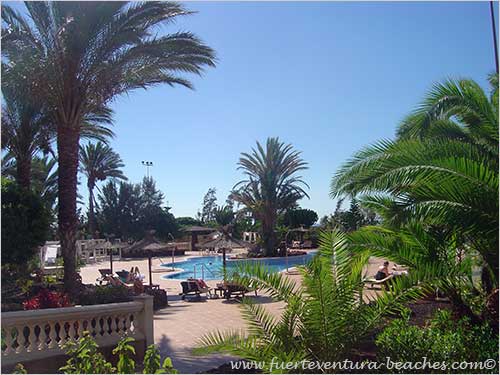 The facilities at the hotel include an outdoor swimming pool; sauna and jacuzzi; reading room and TV and table games room; Fitness centre and free activities with a personal trainer; padel tennis court; free Wi-Fi; golf academy and golf pro shop.  For business users the hotel has fully equipped fuction rooms with all the appropriate services.  International and local cuisine is erved in the St.Andrews Buffet Restaurant and in the Hoyo 19 café/restaurant.

Room Facilities
There are 51 double rooms and 10 suites in the hotel. Each room has a private terrace or balcony, which have sea views over the golf course. All are equipped with telephones, air conditioning, ceiling fan, mini-bar, satellite television, safe, tea/coffee making facilities, 24 hour room service, DVD and CD player and a CD set.  The adjoining bathrooms have a separate shower and bath, with bathrobe and slippers and hair dryer.  The hotel also offers connecting rooms, rooms for non-smokers and specially adapted rooms for people with reduced mobility.  

What Visitors Think of this Hotel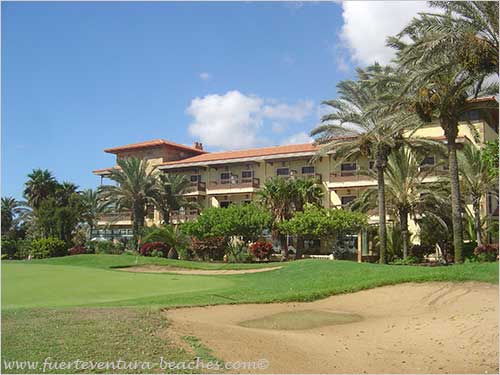 People who have stayed at the Elba Palace Hotel leave reviews on TripAdvisor.  The overall rating is 4.5 out of 5, taking into account the location, sleep quality, rooms, service, value and cleanliness. These are 10 comments that have been put on there, which seem to sum up people's opinions –
'a good quality hotel', 'adults only boutique hotel right on the golf course', 'golf and relaxation – wonderful', 'wonderful relaxing golf holiday', '5 star all the way', 'rest, relaxation and a bit of golf', 'amazing', 'a unique find on this island', 'one of the nicest hotels we have ever stayed at' and 'hidden gem'.
Hotel Video

How to Get to the Hotel


The hotel is only 15 minutes by car from the airport.  Many people hire a car for their holiday from the airport, or get a taxi that will cost about 15€. The hotel is situated on the south side of Caleta de Fuste,off the FV-2 road.  So from the airport follow the signs south for Caleta de Fuste along the FV-2.  In Caleta de Fuste there are two roundabouts – go straight on at the roundabout with the castle on it, and then go straight on at the roundabout in central Caleta.  This road will then take you 1km along to the next roundabout, where you turn right into the golf course.  Turn immediately right again opposite the petrol station and follow the road through the golf course villas and around to the hotel.

Hotel Elba Palace Contact Details
Urb. Fuerteventura Golf Resort. Crta. Jandía, KM 11
35610 Antigua - Fuerteventura
Telephone: (+34) 928 163 922
E-mail: epg(at)hoteleselba.com
Website: www.anjoca.com/en/hotel-elba-palace-golf.php
Click here to return from Elba Palace hotel to Caleta de Fuste hotels