Hotel Barcelo Fuerteventura Thalasso Spa


The Hotel Barcelo Fuerteventura Thalasso Spa is a 4 star hotel in Caleta de Fuste.  It is in the centre of the resort and overlooks the main beach.  It is a popular hotel and attracts all age groups, particularly couples and families, especially during the school holidays, as it offers a whole range of facilities suitable for all ages. The hotel is only 7 km. away from Fuerteventura airport.
Location
The hotel is in a central position in Caleta de Fuste, so everything in the resort is within a 10 minute walk.  Next to the hotel is the El Castillo Commercial area with a medium range of bars, restaurants and shops. The hotel faces the sea, and there is access to the main beach. 

Hotel Facilities
The hotel has a total of 462 rooms with a total of 964 beds. There are two very large swimming pools, one of which is heated in Winter, and one children's pool. The hotel has a large theatre and bar area for evening shows, and a large buffet style restaurant and pool restaurant.  There is a full programme of day and evening activites for adults and children. There is arrange of sports facilities (some of which are charged for) including a gym, padel tennis courts, beach volleyball, tennis court, crazy golf and 5 a side football. There are meeting facilities available.

Room Facilities
The rooms are located in blocks which have 4 floors served by lifts and stairs. All rooms offer excellent views of the beach and harbour area, and are fully equipped.  They are 28 square metres in size, with a balcony or terrace of 5 square metres.  All are equipped with air-conditioning, TV, desk, mini-bar and fully equipped bathroom. Superior rooms are also available which provide extra facilities, some of which have a hot tub on the terrace.

What Guests Are Saying About This Hotel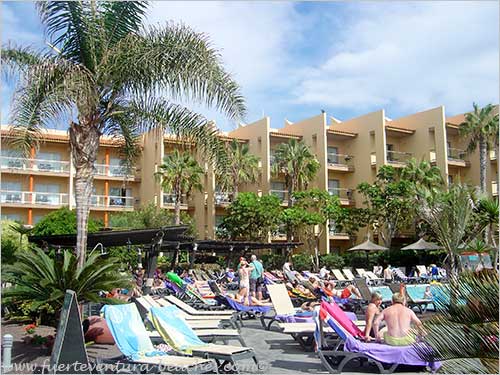 People who have stayed at the Barcelo Fuerteventura Thalasso Spa leave reviews on TripAdvisor.  The overall rating is 4.0 out of 5, taking into account the location, sleep quality, rooms, service, value and cleanliness. These are 10 comments that have been put on there, which seem to sum up people's opinions –
'A large, quality hotel next to the beach', 'excellent, clean and great location', 'lovely hotel', 'FAB', 'relaxing luxury', 'fabulous', 'superb hotel, 'impressed by this hotel', 'one of my favourites' and 'another fantastic holiday'.
How to Get to Hotel Barcelo Fuerteventura Thalasso Spa
The hotel is only 15 minutes by car from the airport.  Many people hire a car for their holiday from the airport, or get a taxi that will cost about 15€. The hotel is situated in the middle of Caleta de Fuste, off the FV-2 road.  So, from the airport follow the signs south for Caleta de Fuste along the FV-2.  In Caleta de Fuste there are two roundabouts – go straight on at the roundabout with the castle on it, and then turn left at the next roundabout in central Caleta.  This road will then take you 400m along to the hotel which will be on your right.


Contact details
Avenida de El Castillo, s/n
35610 Caleta de Fuste, Antigua 
Telephone:  (0034) 928 547525
Email: Fuerteventura(at)barcelo.com
Website: http://www.barcelo.com/BarceloHotels/en_GB/hotels/Spain/The-Canary-Islands-Fuerteventura/hotel-barcelo-fuerteventura-thalasso-spa/general-description.aspx
Click here to go from Hotel Barcelo Fuerteventura Thalasso Spa to Caleta de Fuste hotels
Click here to return from Hotel Barcelo Fuerteventura Thalasso Spa to Home page