Hotel R2 Pajara Beach

The Hotel R2 Pajara Beach in Costa Calma is a large hotel that offers a range of facilities for guests who are looking for a quiet relaxing holiday, or those who like to take advantage of a range of sporting facilities.  It is suitable for families, groups and couples who like to enjoy year round sunshine.
Hotel R2 Pajara Beach Location

The Hotel R2 Pajara Beach is located at the southern end of Costa Calma, and fronts on to the beach.  One of the best beaches on the island, the Sotavento Beach, is just a short walk away to the south.  The resort of Costa Calma offers the ideal place for a relaxing hotel based holiday, as there isn't a wide range of bars and shopping facilities.  There is a wider selection of shops in Jandia and Morro Jable which are 15 minutes away by car or bus.  A popular day out is to the Oasis Park zoo.
Hotel Facilities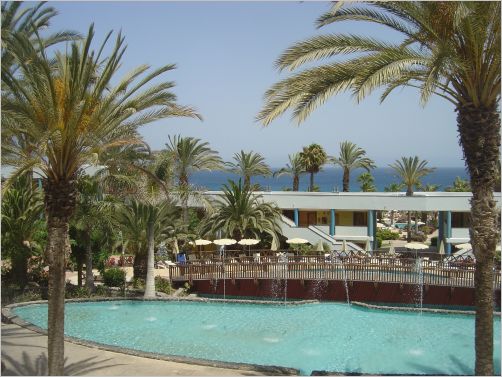 The hotel has a Spa and Wellness Center, a saltwater swimming pool, a freshwater swimming pool, and a range of sports facilities including two tennis courts, a multi-use court, a sailing school, and a volleyball court.  There is a WiFi area, a small selection of shops, hairdressers, laundry and an Internet Café.  There is a main buffet restaurant and an a la carte restaurant, bars and a pool bar.
Room Facilities
The hotel has 355 rooms which are made up of double, family and Royal Suites.  All rooms have a fully fitted bathroom. A terrace or balcony, air conditioning, mini bar, satellite TV, telephone, desk and safety deposit box.
Double Rooms: have two beds
Family Rooms: are suitable for up to 4 adults
Royal Suites: have a larger terrace, separate rooms and a Jacuzzi.
What Guests saying about this Hotel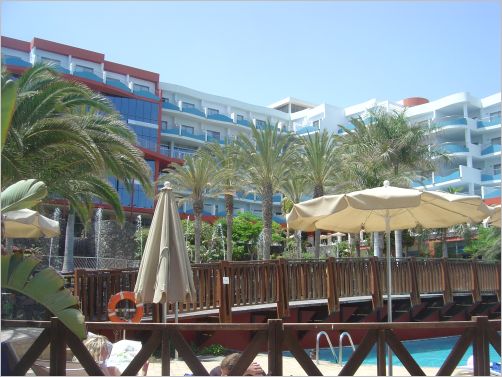 People who have stayed at the Hotel R2 Pajara Beach leave reviews on TripAdvisor.  The overall rating is 4 out of 5, taking into account the location, sleep quality, rooms, service, value and cleanliness. These are 10 comments that have been put on there, which seem to sum up people's opinions –
'Stylish holiday', 'great service, food and location', 'this was the best location and sea view', 'lovely break', 'still just as good', 'nice hotel, but only if you love peace and quiet', 'a relaxing smart hotel, in an ideal location', 'a superbly tranquil hotel', 'mixed experience', '3rd visit – just as good', and 'great holiday, just some minor let downs'.
Hotel Video


How to Get to the Hotel

From Fuerteventura Airport you take the FV-2 road, signposted to Morro Jable.  After a distance of 92 km you arrive at Costa Calma.  At the first roundabout in the resort turn left, and immediately at the mini roundabout turn right on to the Avenida de Jahn Reisen and head up the hill.  There are hotels on the left-hand side and a plantation of trees on the right.  After 2 km there is a small roundabout, where you turn right at the shopping center Botanico,  in to the road called Sicasumbre.  Further on, at the mini roundabout, take the first left into the Punta del Junquillo road.  The road then goes to the right into the Punta del Roquito road, and the Hotel R2 Pajara Beach is about 2 km on the left.
Contact Details
Address: Punta del Roquito s/n - 35627 Fuerteventura (Fuerteventura) - Spain
Tel:  (0034) 928 873000
Email:  reservas.grupos(at)r2hotels.com
Website:  http://en.r2pajarabeachhotel.com/
Click here to return to Costa Calma Hotels