Las Palmeras Shopping Centre
Las Palmeras Shopping Centre which can be found about halfway down the main street (Avenida Nuestra Señora del Carmen) in the resort of Corralejo (in the north of the island), opposite the petrol station.  It is open every day of the week from 10am - 10pm.  It has two floors, one of which is at ground level, and the other is set below ground, but open to the air. 
Las Palmeras Shopping Mall: Store List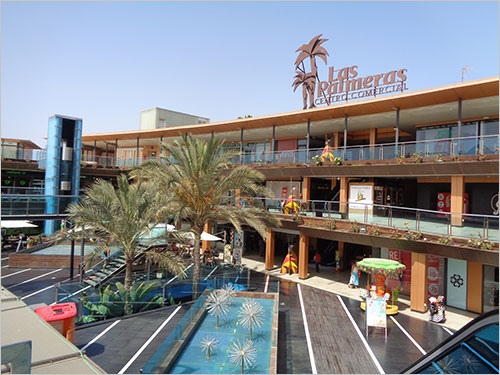 A view of "Las Palmeras" Shopping Centre in Corralejo, Fuerteventura, on a nice sunny day
The shops include a Padilla Spar supermarket, and others selling cosmetics, perfumes, clothes, accessories and sports clothes and equipment.  The shop names are: Zara, Stradivarius, Fund Grube, Natura, Espirit, Encuentro, Bambinos, Sportszone, Lady Russ, Sunglass Hut, E-Shine and two cafe bars.
There is free underground car parking, which is accessed by a very steep ramp.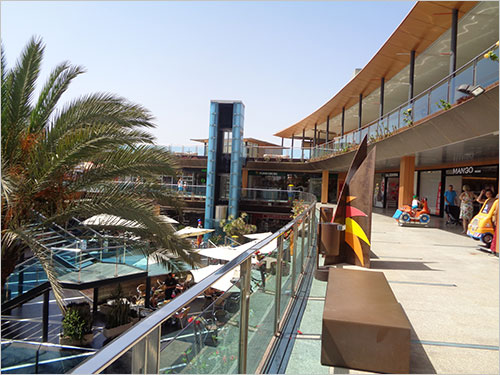 Contact Details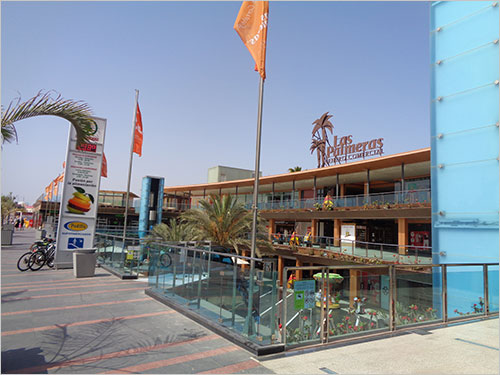 Address: 
Avenida Nuestra Señora del Carmen, 70
Corralejo, Fuerteventua
Phones: +34 639 416 149   and +34 928 866 560
Website: cclaspalmeras.com 
How to Get to Las Palmeras Shopping Centre
Getting to this shopping mall is quite easy. This shopping center is located on the top of the island, so the most practical way of getting there is to drive north on the FV-1 motorway. Once you arrive in Corralejo, if you follow the same road, you will see various roundabouts. You need to turn right in the last one, to enter the street where this shopping centre is located: Avenida Nuestra Señora del Carmen, number 70. 

Click here to return from Las Palmeras Shopping Centre to Shopping in Fuerteventura
Click here to return from Las Palmeras Shopping Centre to Home page