Playitas Resort Hotel

The Playitas Resort Hotel is ideal for couples and singles who are looking for a hotel that offers a whole range of sporting facilities close by.  The hotel is very popular for those looking for a training base at any time of the year, or those who are either looking for a relaxing holiday or an active holiday.
Location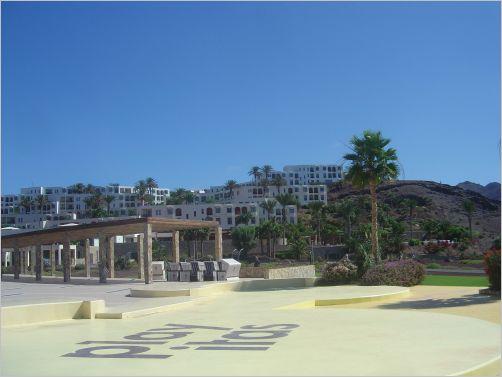 The hotel is located on the hillside at the northern end of the black sand beach, and is just a few minute's walk into the traditional fishing village of Las Playitas.  The hotel is 5km away from the town of Gran Tarajal which offers a wide seafront with a choice of restaurants, supermarkets and shops.

Hotel Facilities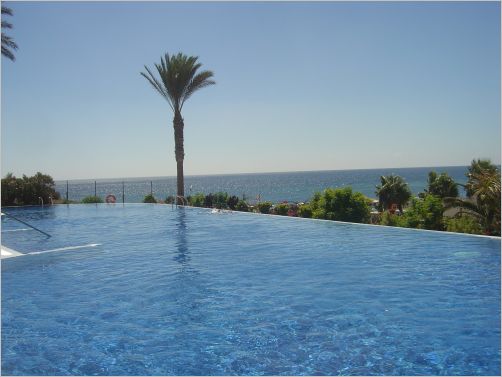 The hotel has 223 rooms, a large swimming pool, a fitness center with gym, a bar area, a tennis court, a Business Centre and meeting rooms.  The half board restaurant serves buffet style meals.

Close by is a wide range of sports activities – an 18 hole golf course, a 50m Olympic size outdoor swimming pool, a cycling centre, triathlon facilities, a very large sports hall, a dive centre, archery, tennis, Nordic walking and a sailing/watersports centre.  A full sports programme is available to include aerobics, aquaaerobics, spinning, body toning etc
Room Facilities
At the hotel there are 167 double rooms, 52 Junior Suites and 4 suites that have their own private pool. All the rooms have air-conditioning, a phone, a television, a safe, bathroom with separate shower, a hairdryer and a minibar.  All rooms have a balcony or terrace.

What Guests saying about this Hotel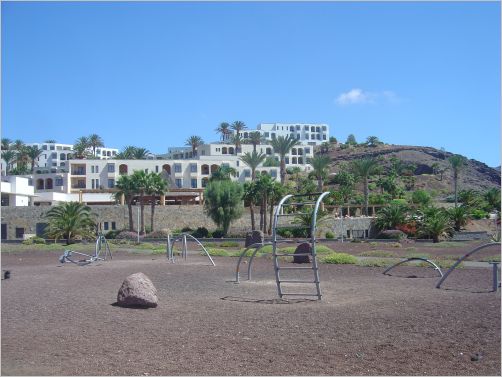 People who have stayed at the Playitas Resort Hotel leave reviews on TripAdvisor.  The overall rating is 4 out of 5, taking into account the location, sleep quality, rooms, service, value and cleanliness. These are 10 comments that have been put on there, which seem to sum up people's opinions –

'Fantastic holiday – hope to get back again', '5th time here, and I love it', 'second time back – it might become a tradition', 'the best aparthotel I've ever seen', 'fantastic sports facilities', 'relaxed mutiactivity', 'fun in the sun', 'great fitness centre but small details could make it even better', 'good for fitness enthusiasts', and 'everything we wanted for a sporty holiday'.
Hotel Video

How to Get to the Hotel

Las Playitas is about half way between Fuerteventura airport and Morro Jable in the south of the island.  When you leave the airport take the FV-2 road, signed to Morro Jable, and keep following the signs for around 30km, until you reach the roundabout for Gran Tarajal. Turn left at this roundabout and follow the FV-20 road which goes into Gran Tarajal.    After travelling 3.5 km, take the left-hand turn on to the Las Playitas road, the FV-512.  After 4km you will arrive in Las Playitas, and at the first roundabout turn right, and at the next small roundabout, turn left.  The entrance to the hotel is the first on the right.

Playitas Resort Hotel Contact Details
Address: Urbanizacion Las Playitas, 35629 Tuineje, Las Palmas, Las Palmas, Spain

Phone:  (0034) 928 860400
Email:  booking(at)playitas.net
Website:  www.playitas.net
Click here to return to Las Playitas Hotels