Playitas Resort Villas

The Playitas Resort Villas are ideal for couples and families who like their own private accommodation, but have access to the wide range of sporting facilities at the Las Playitas Resort.  There are 24 villas in total.
Location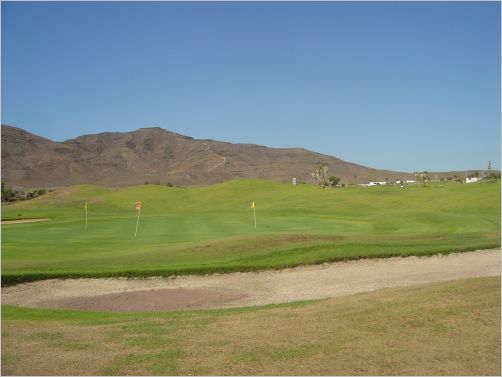 The villas are located within the Las Playitas Golf course, so have views of the fairways and greens.  They are located about 10 to 15 minutes walk away from the Bahia Grande and Playitas Resort hotels, and the same distance to the beach.  The nearest town, Gran Tarajal, is 5km away to the south and is a non-tourist town but has a wide promenade with a very good selection of restaurants facing the sea.  There are also supermarkets in the town if guests are self-catering.
Hotel Facilities

Guests in the Playitas Resort Villas have access to the full range of facilities available at the resort, and these include the restaurants and bars, the 18 hole golf course, the Olympic size outdoor swimming pool, the Fitness Centre, the Spa, the Cycling Centre, tennis courts, sports hall etc.

Room Facilities
The detached villas have 2 bedrooms, each with an en-suite bathroom, with a bath, shower and toilet.  The kitchen is fully equipped with a cooker, fridge, dishwasher, washing machine, a dryer, and a coffee maker.  The living room has a dining table, sofa, flat screen television, internet modem, direct line telephone, mini-bar and a safe.  Outside there is a private swimming pool, terrace, a pergola and some outdoor furniture.
What Guests saying about this Hotel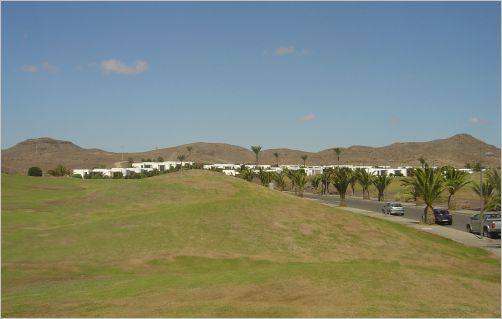 People who have stayed at the Playitas Resort Villas leave reviews on TripAdvisor.  The overall rating is 4 out of 5, taking into account the location, sleep quality, rooms, service, value and cleanliness. These are 10 comments that have been put on there, which seem to sum up people's opinions –
'Fantastic mix of exercise and relaxation', 'a dream place for us', 'Las Playitas is amazing', 'fantastic resort, cannot wait to return', 'just one word – fantastic', 'spacious villa with a nice design', 'great resort for an active holiday in the sun', 'excellent holiday', 'great resort in a perfect setting', and 'our first visit to Playitas – probably not the last'.
Hotel Video


How to Get to the Hotel


Las Playitas is about half way between Fuerteventura airport and Morro Jable in the south of the island.  When you leave the airport take the FV-2 road, signed to Morro Jable, and keep following the signs for around 30km, until you reach the roundabout for Gran Tarajal. Turn left at this roundabout and follow the FV-20 road which goes into Gran Tarajal.    After travelling 3.5 km, take the left-hand turn on to the Las Playitas road, the FV-512.  After 4km you will arrive in Las Playitas, and at the first roundabout turn right, and at the next small roundabout, turn right again.  Follow the road, past the villas and golf course, and along to the hotel entrance.
Playitas Resort Villas Contact Details
Address: Urbanizacion Las Playitas, 35629 Tuineje, Las Palmas, Las Palmas, Spain

Phone:  (0034) 928 860400
Email:  booking(at)playitas.net
Website:  www.playitas.net
Click here to return to Las Playitas Hotels