Las Rotondas Shopping Centre
Las Rotondas Shopping Centre, in Puerto del Rosario, is the biggest of the shopping malls in Fuerteventura. The total area is over 30.000 square meters. A wide range of shops attracts local residents from all over the island, as well as tourists, who want a shopping experience, while they are here on holiday. It can be found between the first two main roundabouts in Puerto del Rosario as you arrive from the south.  It is an indoor shopping centre which has air-conditioning.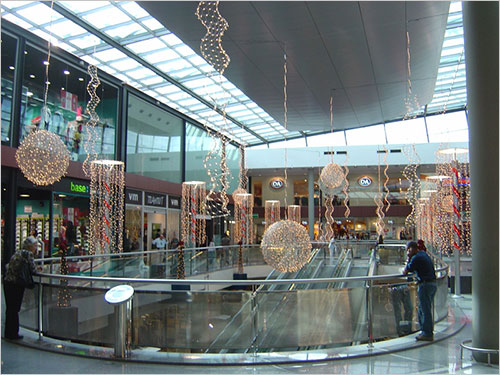 Las Rotondas Shopping Centre looks like this in Christmas time
Las Rotondas has shopping over 4 floors and beneath that are two levels of free car parking.  It is open from 10am - 10pm Monday to Saturday, and is closed on Sundays.  The onsite supermarket, called Hiperdino, opens at 9am.  The restaurants on the top floor, which includes a Burger King, are open on Sundays.

The shops include Zara, Springfield, Massimo Dutti, Cortefiel, Women's Secret, Zona Zero, Bershka, Carolina Boix, Punto Roma, Stradivarius, Blanco, H & M, Inside, Benneton, Etam, Jack Jones, Pull&Bear, Electron, Sportszone, New Yorker, C & A, Base Sport, Intersport, Encuentro, Multiopticas, Natura, Kuba, Marypaz, Jeans, Naazari, RG Planet, Paco Martinez, Nikki, and Party Fiesta.  The floors are linked by escalators, and there is also a glass lift.  There are toilets on all floors.  Cafes are located on the main floors, and there are restaurants on the top floor.

Las Rotondas Shopping Centre Details
To see an updated list of shops, opening times, and events being held at this shopping mall, you can check out their website, by clicking here. (Opens in a new window)
Centro Comercial Las Rotondas
Calle Francisco Pi y Arsuaga, 2
35600 Puerto del Rosario
Telephone: (+34) 928 861  300
Opening hours: 10:00 until 22:00 hours (Mondays to Saturdays) Sundays and holidays it is closed, but on certain holidays, and Sundays close to Christmas, the mall opens.
How to Reach "Las Rotondas"
In the dashcam video below, taken by the Finnish tourist Supersaiyan79, you can see the roads that take you there.
To summarize, this is a great shopping mall where you will find lots of quality shops, bars, restaurants, and a supermarket. We highly recommend it. It takes less than a couple of hours to look around, and even do some shopping. So, if you're staying in, or near, Puerto del Rosario, you can come, have a good look, and go home with some bargains.
Click here to return from Las Rotondas Shopping Centre to Shopping in Fuerteventura
Click here to return from Las Rotondas Shopping Centre to Home page