Sheraton Fuerteventura Beach Hotel 


The Sheraton Fuerteventura Beach, Golf & Spa Resort is a 5 star hotel in the resort of Caleta de Fuste.  It is a large hotel which was built about 10 years ago, and is popular with all types of clientele who want a high class type of hotel, with first class facilities.  During the summer season it is popular with families.
Location of the Sheraton Fuerteventura Beach Hotel

It fronts on to the beach, on the south side of the resort, and is a 5 minute walk to the nearest Commercial Centre, with its supermarket, shops, restaurants, bars, bowling alley and cinema. The centre of Caleta de Fuste is 1 km away to the north. For those without a car, the hotel has a courtesy coach service that runs regularly to the Commercial Centre and into Caleta de Fuste.

Hotel Facilities


The facilities at the Sheraton Fuerteventura Beach hotel include 2 outdoor swimming pools (one of which is heated) and a children's pool; air-conditioned facilities; a Spa with a fitness facility, sauna, steam room, jacuzzi, beauty centre etc; a tennis court; hairdressers and a children's mini-club.  There are restaurants and bars located within the hotel.  Meeting and banqueting facilities are also available at the hotel.

Room Facilities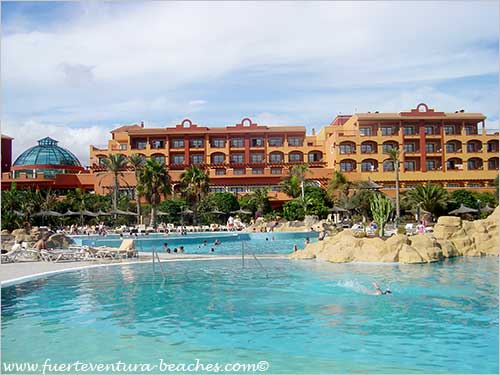 There are 266 bedrooms in the hotel. Each room has a private terrace or balcony, which have sea views. There are different types of rooms:
A Deluxe Room with a sea view, with a sitting area with sofa and armchair, a desk, safe, coffee/tea making facilities,internet, satellite TV, air-conditioning, and a bathroom with a bath, separate shower, hairdryer and double washbasin.
A Family Room,which is two deluxe rooms with connecting doors.
A Premium Room of 50 square metres and located on the ground floor with a garden view, and the same facilities as a Deluxe Room.
A Junior Suite of 71 square metres with a relaxing area with dining table and chairs, a walk-in closet, private terrace with Jacuzzi and separate shower.
An Executive Suite of 181 square metres, with a separate living room with dining table; and a large seating area with a sofa and writing desk.  The bedroom is separated from the living area and has a large closet.  There is a private terrace or balcony.
Presidential Suite of 229 square metres with a spacious living room, entrance hall, two bedrooms, two bathrooms and a roof terrace.
What Guests are Saying About This Hotel
People who have stayed at the Sheraton Fuerteventura Beach, Golf & Spa Resort leave reviews on TripAdvisor. The overall rating is 4.5 out of 5, taking into account the location, sleep quality, rooms, service, value and cleanliness. These are 10 comments that have been put on there, which seem to sum up people's opinions –
'perfect honeymoon', 'fantastic', 'very good', 'great resort hotel', 'amazing, excellent', 'a-ma-zing', 'top quality', 'and excellent once again – our 3rd stay', 'running out of good things to say about this hotel', and 'lived up to expectations'.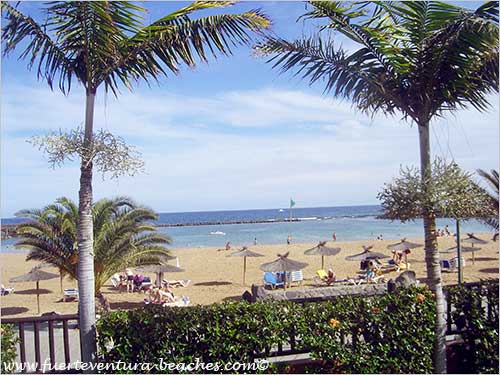 How to Get to Sheraton Fuerteventura Hotel


The hotel is only 15 minutes by car from the airport.  Many people hire a car for their holiday from the airport, or get a taxi that will cost about 15€. The hotel is situated on the south side of Caleta de Fuste, off the FV-2 road.  So from the airport follow the signs south for Caleta de Fuste along the FV-2.  In Caleta de Fuste there are two roundabouts – go straight on at the roundabout with the castle on it, and then go straight on at the roundabout in central Caleta.  This road will then take you 1km along to the next roundabout, where you turn left in front of the Atlantico Commercial Centre. Go round the roundabout and take the first right and drive along the road that runs parallel to the FV-2.  Drive past the Carlota Hotel and the Sheraton is the next hotel on the right.

Contact Details
Avda. de las Marismas nº1, Antigua · Fuerteventura, Islas Canarias, 35610 · España 

Website: http://www.sheratonfuerteventura.com/
Phone: +34 928 495100
Email: Fuerteventura( a t)sheraton.com
Click here to return from Sheraton Fuerteventura Hotel to Caleta de Fuste Hotels
Click here to return from Sheraton Fuerteventura Hotels to Home Page